NOVEMBER 2021
---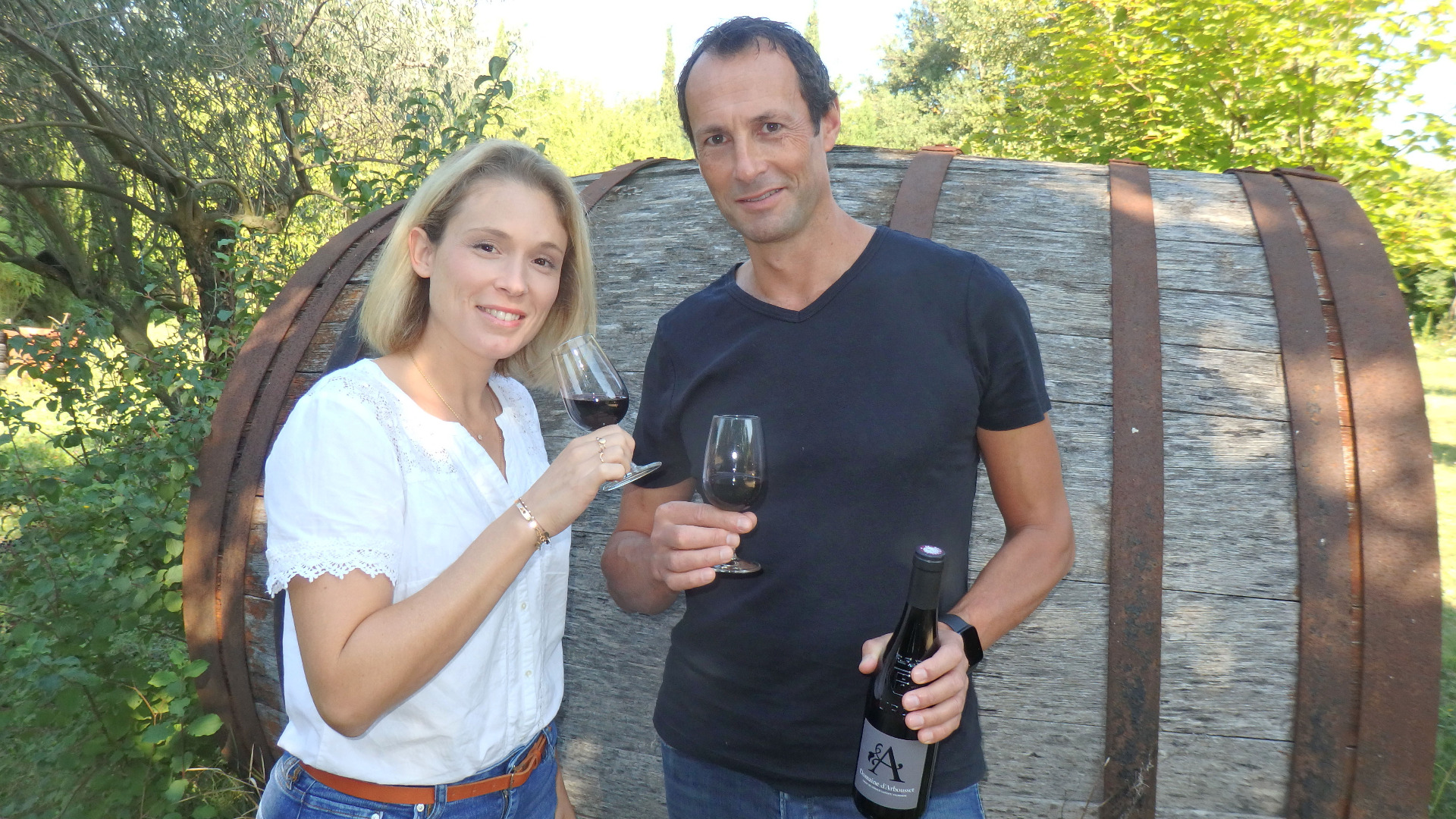 United in their private and professional lives, Julie Rouffignac and Gérald Lafont created a trading house barely two years ago, based in Saint Laurent des Arbres, which today markets some 700,000 bottles.
Even if she has a name that sounds southwest, Julie Rouffignac is from the Var. This young oenologist began in the Côtes de Provence in 2012 by learning her hand – and the palate – in various fields. Successively cellar master, cellar master, responsible for bottling, she also took care of monitoring in the vines and, of course, winemaking: "I did a bit of everything to learn my job" sums up she. Before embarking on oenological advice with various winegrowers, still in Provence: Cassis, Bandol… all the coast to Saint-Tropez. " It was really nice ! I'm still there a bit because I have my family there and I go back often. »
Then here it is, arriving in the Rhône Valley in 2014: "After several months in the world of rosé, I needed to get to know red better". In Châteauneuf-du-Pape, she therefore resumes a journey similar to the previous one in several areas, most of them committed to organic and biodynamic farming.
In the meantime, she met her companion, Gérald Lafont, also a consultant oenologist and owner by his family of a small 4 ha estate in Lirac. Today, they are partners in Rouffignac Lafont, a new trading house created barely two years ago. Gérald has kept oenological advice as his main activity; it turns out quite well in the southern Rhône Valley (Châteauneuf-du-Pape, Tavel, Lirac) and north (Crozes-Hermitage, Cornas) without forgetting Languedoc and Provence: more than 30 properties in total; and Julie, she has refocused on trading. "The idea came from meetings during tastings, she says; we met people who were interested in working with us, to develop a brand; we proposed blends that were popular and it started like that".
His first client? Tesco, an international retail group based primarily in the UK. Today, Maison Rouffignac Lafont exports its bottles (approximately 700,000) to England, the USA, Belgium and the Nordic countries. Nothing for the moment in France. Essentially a selection of reds from Côtes-du-Rhône, Châteauneuf-du-Pape, Rasteau, Signargues and Lirac. On the rosé side, Côtes-de-Provence and an organic Aix hillside. All in the long term under the Julie Rouffignac brand that the young oenologist is in the process of developing.
Gérald, for his part, is not content with his activity as a consultant oenologist; he is also a winegrower. He produces on the Arbousset estate inherited from his father some 10,000 bottles a year of a single cuvée: "La vigne d'Yvon", an organic red Lirac. The couple also recently acquired a 0.8 ha plot in the Bellet appellation above Nice: an opportunity they could not miss. But there is no question of spreading too thin: Julie and Gérald feel good in the Gard and would like to build a real estate to be able to embark on wine tourism. Here, in Lirac, we are on a magnificent terroir with a beautiful appellation which today does not have the notoriety it deserves. Hence our desire to make it better known.
Jean Calabrese